Introduction
The current global population is 7.3 billion and is estimated to reach 10 billion by 2050 (UN, 2019). Consequently, such an increase might result in a protein demand twice as much as the current protein production (Godfray et al., 2019). Since conventional meat production systems such as animal agriculture are no longer sustainable, scientists have been searching for alternative protein sources (Goodwin and Shoulders, 2013). Early attempts for meat alternatives were focused on plant-based meat analogues with the use of soy-, wheat-, or fungi-based protein sources (Hoek et al., 2004; Sadler, 2004). Only recently researchers have tried to use cultured muscle cells as alternatives to real meat. Cultured meat, also known as in vitro meat, is a meat analog produced using in vitro cell culture technology where the animal cells are primarily skeletal muscle-derived cells isolated through muscle biopsy and from slaughtered livestock (Choi et al., 2021; Datar and Betti, 2010).
Cultured meat technologies have received a lot of attention because many people think that this technology could supplement or partially replace conventional animal production systems (Post et al., 2020). In fact, conventional animal production system has been the most important part of agriculture. Nonetheless, during last few decades, people and researchers have raised concerns about the conventional animal production system because it may cause several problems, including environmental and social concerns, and animal welfare issues (Post, 2012).
The first cultured meat was produced in 2013 by Mark Post from the Maastricht University, Netherlands, from primary bovine skeletal muscle cells. Since then, several university laboratories and companies have entered this research field (Stephens et al., 2018). Later, another US-based start-up company, Memphis Meats, produced several forms of cultured meat products such as meatballs, beef fajita, chicken, and duck (Stephens et al., 2018). In addition, JUST, a vegan cookie dough and mayonnaise company, announced that they would debut cultured chicken nuggets. Further, a start-up company, Modern Meadow, developed a steak chip made of cultured meat combined with a hydrogel (Marga, 2016; Stephens et al., 2018). Since the introduction of the first cultured meat patty in 2013, several private companies have been founded and focusing on cultured meat production (Choudhury et al., 2020).
Although there are many technological difficulties associated with cultured meat area, at least some of the global problems could be potentially solved through the successful development of this technology (Table 1). Therefore, this review summarized the current issues and technological development about cultured meat production, particularly focusing on three areas: 1) social and economical aspects of cultured meat, 2) biological basis underlying the meat culture of various livestock, and 3) technological approaches for cultured meat production.
Attributes
Traditional meat
Cultured meat
References
Production system
 Production method
Animal farming
Cell cultivation
(Bhat et al., 2019)
 Land requirement
High
Low
(Alexander et al., 2017)
 Location of production
Mostly rural
Rural and urban
(Bhat et al., 2019)
 Production cost
High
(So far) Very high
(Van der Weele and Tramper, 2014)
 Production time
Long
Short
(Bhat and Fayaz, 2011)
 Production yield
Low
High
(Alexander et al., 2017)
 Greenhouse gas emission
Very high
Low
(Bhat and Fayaz, 2011)
 Energy requirement
High
High
(Tuomisto and Teixeira de Mattos, 2011)
 Water and soil pollution
High
Low
(Welin and Van der Weele, 2012)
 Sustainability
Low
High
(Siegrist and Hartmann, 2020)
Characteristics
 Manipulating composition
Impossible
Possible
(Bhat and Fayaz, 2011)
 Human health
Low
High
(Joshi et al., 2020)
 Food safety
Low
High
(Joshi et al., 2020)
 Animal welfare
Low
High
(Mouat and Prince, 2018)
 Ethical advantage
Low
High
(Mancini and Antonioli, 2020)
 Consumer acceptance
High
Low
(Siegrist et al., 2018)
Download Excel Table
Biological basis underlying the cultured meat production of various livestock
Currently, 32 cultured meat companies exist worldwide, focusing on cultured beef (25%), poultry (22%), pork (19%), seafood (19%), and other exotic meats (15%), such as mouse, kangaroo, and horse (Choudhury et al., 2020). Most of these companies are based in North America (40%), followed by Asia (31%) and Europe (25%). Substantial amount of capital has been invested in cultured meat-related research and development in the past 5 years. Approximately $320 million have presumably been invested in beef and pork (75%) as well as in seafood production (25%) (Choudhury et al., 2020).
Technical approaches for cultured meat production
Tissue engineering-based cultured meat production largely depends on large-scale cell culture technologies, which could provide a significant amount of cells, allowing meat production (Verbruggen et al., 2018). Large-scale cell production systems also aim at producing as many cells as possible with the least of the required resources. Minimal handling and a short culture period for a sufficient number of harvested cells are also commonly considered factors for efficient cell mass production (Moritz et al., 2015). Several cell types are potentially viable options for cultured meat production, including myogenic satellite cells, embryonic stem cells, and induced pluripotent stem (iPS) cells (Kadim et al., 2015). Among these various cell types, myogenic satellite cells are widely used as the promising option due to their efficient differentiation into myotubes (Arshad et al., 2017). A variety of methods and bioreactors are used to expand anchorage-dependent cells (Merten, 2015). Each technology has its own merits, but in common, these platforms provide an attachment surface area for the cells while assuring gas and nutrient exchange in parallel (Tavassoli et al., 2018).
Future perspectives
The ultimate goal of cultured meat is to produce edible meat products without directly involving animals, not to obtain and proliferate the meat taken from livestock. To do this, pluripotent stem cells might offer the best option as they could differentiate into muscle, fat, and other cell types that could enhance the real meat flavor. Among the two pluripotent stem cell types, embryonic stem and iPS cells (ESCs and iPSCs, respectively), iPSCs seem to be more suitable as they are easy to establish and offer the advantage of a non-embryo-based alternative. To date, iPSCs from various livestock have been established, including cattle (Han et al., 2011), pigs (Wu et al., 2009), and chicken (Choi et al., 2016a). Although human and mouse iPSCs exhibit limitless self-renewal potential, livestock iPS cells lose stemness during long-term culture in the present culture system (Choi et al., 2016). Therefore, the culture medium should be improved for long-term livestock iPSC culture. Since muscle tissue is a complex structure of multiple different cell types, reliable muscle, fat, myoglobin, etc., differentiation protocols should be established, as well as a technique for forming a 3D structure for multiple cell types (Fig. 2). Using the tissue engineering technology or bioprinting system, muscle cells and various supportive cell types could be cultured on the same 3D scaffold to form complex tissues that mimic in vivo skeletal muscle structure (Krieger et al., 2018). Recently, a 3D engineered scaffold was used for bovine satellite cells, which were proliferated on the 3D scaffold by submerging them into a myogenic growth medium. Bovine smooth muscle cells and endothelial cells are differentiated on the scaffold to form cell-based meat products, which are reported to be suitable for consumption as food products (Ben-Arye et al., 2020).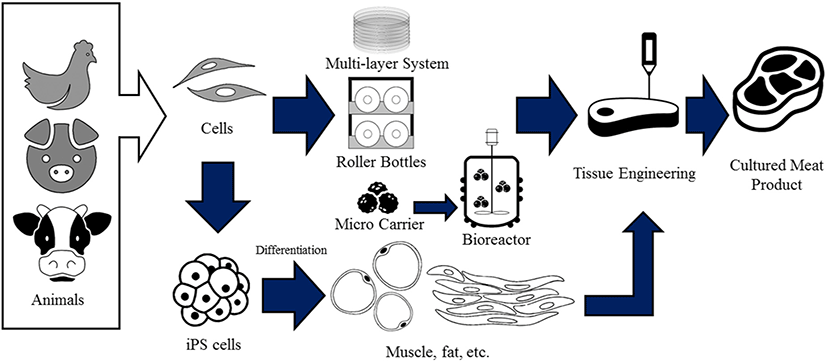 Download Original Figure