Introduction
Proper supply of nutrients is critical for infant growth. Human milk is an ideal source of nutrition for infants; however, infant formula becomes an indispensable nutrient source if the nutritional components of human milk are inadequate or if infants are unable to ingest human milk. The effects of nutritional contents on the normal growth of infants have been extensively studied. (Neri-Almeida et al., 2009; Om et al., 2007; Shapiro AD et al., 1986; Vasquez-Garibay et al., 2005).
Nucleotides are involved in energy metabolism of organisms and are the basic units of DNA and RNA. They are also essential physiological constituents and affect the growth of premature babies. Therefore, nucleotides are important components of the human body (Neri-Almeida et al., 2009; Vasquez-Garibay et al., 2005).
In particular, the European Union (EU), Australia, and New Zealand have specified the standard amounts of five nucleotides, namely, cytidine 5′-monophosphate (CMP), uridine 5′-monophosphate (UMP), adenosine 5′-monophosphate (AMP), guanosine 5′-monophosphate (GMP), and inosine 5′-monophosphate IMP) in food. Furthermore, research interests in infant products are continuously being promoted, and standard amounts of nucleotides are now being added to infant food even in Korea (Om et al., 2007).
Commercially distributed infant formula is mainly processed from the milk of cattle, sheep, and goat (Ministry of Food and Drug Safety, 2016b; Livestock product processing standards and component standards, 2016). It can also contain milk-processed products as the main ingredient, including nutrients such as, minerals, vitamins, and human milk ingredients necessary for the growth and development of infants added subsequently. Ever since the nutritional function of nucleotides was emphasized in 1965, nucleotides are being added to infant formulas available in today's market (Alles et al., 2004). Nucleotides (Fig. 1) are used by most manufacturers of infant formula in Korea and abroad for the purpose of nutrition enhancement (Ministry of Food and Drug Safety, 2016b).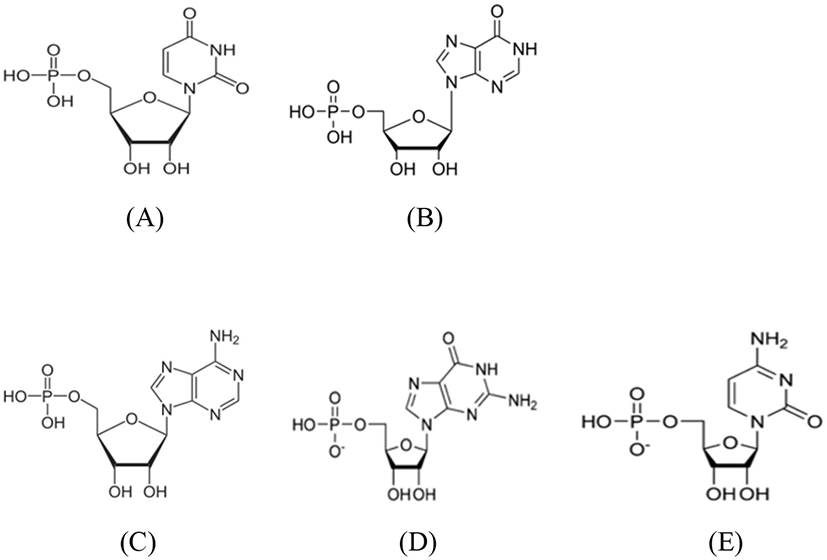 Download Original Figure
The use of nucleotides in food meant for infants and mothers is gradually increasing worldwide for improving the quality of nutrition, although domestic analytical methods for establishing the standard amounts are lacking. In contrast, the nutritional function and concentration of nucleotides in food are being actively studied across the globe using high-performance liquid chromatography-mass spectrometry (HPLC-MS), various capillary devices such as electrophoretic mass spectrometer (capillary electrophoresis coupled to mass spectrometry, CE-MS), hydrophilic liquid chromatography (hydrophilic interaction liquid chromatography, HILC), and HPLC (Garcia-Gomez et al., 2013; Laourdakis et al., 2014; Liao et al., 2011; Perrin et al., 2001; ShanShan et al., 2016).
The main aim of this study was to establish a rapid and simple analytical method for determining the concentration of five nucleotides in dairy products using solid phase extraction (SPE) clean-up and high-performance liquid chromatography with diode array detector (HPLC-DAD). The newly improved method proved to be appropriate for rapidly analyzing nucleotides in infant formulas and other dairy products compared to the conventional methods.
Results and Discussion
The buffer (1 M NaCl, 5 mM EDTA) used as the extraction solvent in the AOAC method attempted to remedy the drawback that it did not dissolve completely during preparation of the reagent. EDTA used in the AOAC method is a colorless crystalline powder with a melting point of 240° and its solubility in water is 0.2 g/100 mL at 22°C. Hydrophilic EDTA is not soluble in ethanol/ether and chelates metal ions. In this study, these features were used in the extraction solvent, which contained the soluble disodium dihydrate salt of EDTA. The spiking test showed 84.69% to 102.72% (Table 1, intra-day and inter-day accuracy) when the reagent solvent was used.
The mobile phase and detection conditions of the AOAC method involve gradient conditions and three wavelengths for interpretation of the results. However, the disadvantage of this method is the longer time required for interpretation, which was circumvented by using an isocratic elution method and single wavelength in the new method. The optimization conditions of the improved nucleotide test method are shown in Fig. 2.
Fig. 3 shows a chromatogram analyzed at three wavelengths (250, 260, and 270 nm) using the conventional AOAC method, and at a single wavelength (250 nm), using the improved method. Fig. 3 (A) is a chromatogram of the analyte according to the wavelength, as shown in AOAC. Three wavelengths, 250 (IMP), 260 (AMP, GMP), and 270 nm (CMP, UMP), possess properties of good resolution and maximum absorption. Table 2 shows that the results obtained for the amounts of nucleotides were similar between the AOAC and improved methods (p<0.05). Because there are no unknown peaks (interference peaks), the wavelength range is not wide enough for the three wavelengths to affect the maximum value at 20 nm, and it is considered that TMP is calculated using the internal standard. Therefore, a single wavelength can be selected and analyzed quickly and accurately. We confirmed that the results obtained using the improved method were not significantly different from those obtained using the conventional method. The analysis time of the improved method was shorter than that of the conventional method, which is based on three wavelengths.
We identified differences in the nucleotide concentration (1.99–29.39 mg/100 g) of 20 infant formula samples, shown in Table 3. Our findings validated the concentrations displayed on the label in 16 out of the 20 products analyzed here. The nucleotide concentrations detected in recent studies [0–51.9 mg/100 g (Yiping et al., 2011) and 8.04–18.16 mg/100 g (YE et al., 2010)] are in agreement with the concentrations observed in present study (1.99 to 29.39 mg/100 g). Analysis of the cow's milk revealed that the concentration of each of the five nucleotides present in the samples was in the range of 0.28–0.86 mg/100 g.
Nucleotides are widely used in commercial infant formulas and other dairy products due to the beneficial effect on the immune response of infants and enhancement of mineral absorption. However, currently there are no standardized test methods for evaluating the nucleotide content of infant formulas and dairy products, and therefore an universal protocol for determining the content of nucleotides is urgently required. A rapid and simple analytical method for determining the concentration of five types of nucleotides in dairy products was improved using HPLC-DAD.
Following optimization of the mobile phase and detection conditions the improved method shortened the analysis time from 40 min to 25 min. It is expected that the improved test method will be utilized by the nucleotide manufacturers such that they can rapidly and easily analyze the nutritional content in the final product. In addition, the results of this study can be used as basic data for analyzing the nucleotide content in the future.