Introduction
For many years, production of high-quality meat has been the prime objective of the pork industry. Meat quality can be assessed from technological, nutritional, and sensory perspectives and may be influenced by multiple interacting factors before and after slaughter (Park et al., 2010). Many studies have focused on genetic factors affecting meat quality (Baby et al., 2014; Casiro et al., 2017; Gonzalez-Prendes et al., 2017; Hwang et al., 2017). These studies found that selective pig breeding and the use of DNA markers played important roles when seeking to enhance pork quality.
The 1-acylglycerol-3-phosphate O-acyltransferases (AGPATs), also known as lysophosphatidic acid acyltransferases, are key enzymes of phospholipid and triacylglyceride biosynthesis. To date, 11 AGPATs have been identified in both mouse and human; however, only the first five (AGPAT1-5) have been proven to catalyze phosphatidic acid synthesis from lysophosphatidic acid; phosphatidic acid is the precursor of all glycerolipids (including triacylglycerides) (Vance and Vance, 2008; Yamashita et al., 2014a). Therefore, AGPATs are important in terms of triacylglyceride biosynthesis because most fatty acids are incorporated into lipids by these enzymes (Coleman and Lee, 2004; Shindou and Shimizu, 2009; Yamashita et al., 2014b). Several studies have shown that fatty acid composition is associated with both meat quality and nutritional value (Choi et al., 2016; Kouba et al., 2003; Yu et al., 2013). However, no study has yet investigated how AGPAT5 affects pig meat quality.
In the present study, we identify a single-nucleotide polymorphism (SNP) in the AGPAT5 gene and explore the associations between this polymorphism and the meat quality traits of Berkshire pigs.
Results and Discussion
AGPAT5 expression in various tissues of the Berkshire pig
We used RT-PCR to evaluate AGPAT5 expression in various tissues of the Berkshire pig (Fig. 1). AGPAT5 was ubiquitously expressed in all tissues examined, but its expression was highest in muscle, as is the case for human AGPAT5 (Agarwal et al., 2006). Murine AGPAT5 is primarily expressed in skeletal muscle, brain, and heart; and is expressed at high levels in testis and prostate (Biao et al., 2005). Meat quality depends on physiological processes in muscle tissue, potentially involving many genes associated with muscle structure and metabolism. We assumed that AGPAT5 status would be a determinant of meat quality.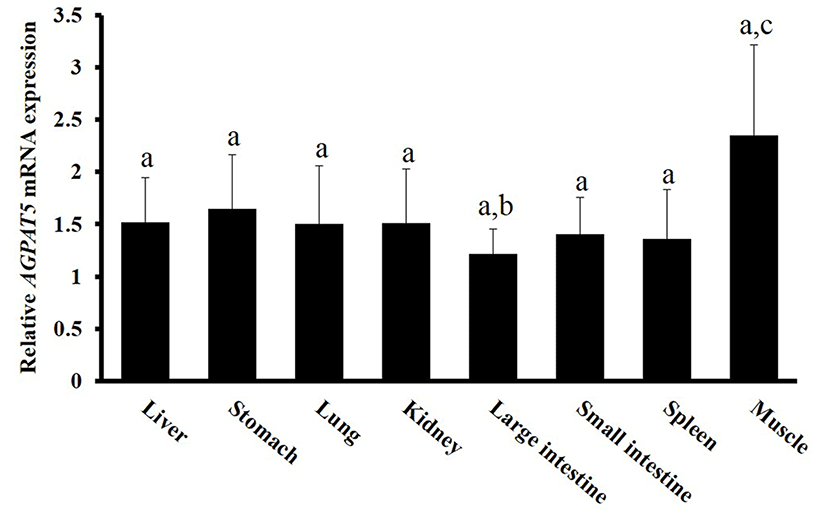 Download Original Figure
Association of the AGPAT5 nsSNP with meat quality traits
As variations in DNA sequence such as SNPs can enhance phenotypic diversity such as meat quality, we identified a new nsSNP (rs196952262, c.673A>G) in the AGPAT5 gene and investigated the contribution thereof to meat quality in Berkshire pigs. The nsSNP c.673A>G in AGPAT5 identified by RNA sequencing of liver tissue samples changes isoleucine 225 to valine in Berkshire pigs. To analyze the association between this nsSNP and meat quality, we genotyped 430 Berkshire pigs using the GoldenGate assay. The genotypic and allelic frequencies of the nsSNP are shown in Table 2. The GG genotype was much more common than the AG and AA genotypes. The frequencies of the G and A alleles were 0.792 and 0.206, respectively. The genotype frequencies were in Hardy-Weinberg equilibrium (p>0.05) (Falconer, 1996).
SNP
Genotype
Genotype frequency
Allele
Allele frequency
AGPAT5 c.673A>G
GG (n=267)
0.631
G
0.794
AG (n=149)
0.327
A
0.206
AA (n=14)
0.042
Download Excel Table
We investigated the association between the new nsSNP and meat quality traits (Table 3). All three genotypes (AA, AG, and GG) were detected in the pig population. The AGPAT5 nsSNP was significantly associated with lightness (the CIE L* value), less cooking loss, and lower carcass temperatures (T1, T4, and T12). The AG genotype was associated with higher meat quality than the AA and GG genotypes.
SNP
AGPAT5, c.673A>G

---

Genotype
GG (n=267)
AG (n=149)
AA (n=14)
Carcass weight (kg)
85.775±5.567
85.805±5.756
87.214±6.518
Backfat thickness (mm)
24.738±5.337
25.624±5.220
23.429±3.857
Meat color
CIE L*
48.510±2.894*
48.758±2.816*
50.371±0.611*
CIE a*
6.149±1.058
6.131±0.977
6.228±1.332
CIE b*
2.887±1.112
2.871±1.090
2.725±1.140
Cooking loss (%)
27.574±3.545*
26.615±4.241*
28.121±3.159*
Water holding capacity (%)
58.213±2.774
58.413±2.704
56.830±1.692
T1 (°C)
37.588±3.569*
36.860±4.613*
39.955±1.949*
T4 (°C)
26.588±4.132*
26.151±5.174*
30.955±3.567*
T12 (°C)
16.978±2.980*
16.729±3.526*
20.491±3.162*
pH24
5.835±0.213
5.793±0.214
5.793±0.167
Data is shown as Means±SD. Superscript indicates statistically significant differences among genotypes (p<0.05).
CIE L*, a* and b* respectively represent the meat color lightness, redness and yellowness.
T represents a postmortem temperature.
Download Excel Table
AGPAT-encoded enzymes convert lysophosphatidic acid to phosphatidic acid, a critical substrate for the synthesis of important lipid signaling molecules including phosphatidyl inositol (a second messenger of insulin signaling) and cardiolipin (a mitochondrial membrane phospholipid) (Yamashita et al., 2014a). Of the various AGPAT isoforms, several exhibit lysophospholipid acyltransferase activity, but only AGPAT4 and AGPAT5 are known to be located in mitochondria (Prasad et al., 2011). However, unlike AGPAT4, AGPAT5 is active on several lysophospholipid substrates, including lysophosphatidylinositol, lysophosphatidyl ethanolamine, lysophosphatidyl choline, and lysophosphatidyl serine (Prasad et al., 2011). Fats and fatty acids of adipose tissue and muscle are important contributors to various aspects of meat quality. Intramuscular fats are composed primarily of phospholipids located in the cell membranes and neutral lipids consisting of mainly triacylglycerols in the adipocytes (Smet et al., 2004). Fats vary greatly in melting point, and fat composition thus affects meat firmness/softness (Knothe and Dunn, 2009; Wood and Enser, 1997). Negative correlations were evident between various fatty acid profiles and meat quality traits (Razmaitė et al., 2009). Moreover, Kim et al. (2016) suggested that fat content affected meat quality by controlling the water-holding capacity and drip loss. Meat from heavy pigs (which were also fatter and faster growing) had lower Warner-Bratzler Shear Force and cooking loss than meat from light weight pigs (Magowan et al., 2011). The decrease in cooking loss with increased ultimate muscle pH is likely to be a reflection of improvements in water-holding capacity which are to be expected as the pH moves away from the average isoelectric point of muscle proteins (Monin et al., 1986). These suggest that AGPAT5 status may affect meat quality by regulating fatty acid synthesis.
In summary, we found that the porcine AGPAT5 gene was highly expressed in muscle and we explored the association between an AGPAT5 polymorphism and meat quality in the Berkshire pig. The AGPAT5 AG genotype reduced all of meat color, cooking loss, and carcass temperatures. Therefore, this nsSNP may help the breeding industry to select pigs of high meat quality.